Guided tour in Le Marais, Paris
We'll stroll around the Marais, an elegant area of Paris which is full of splendid private mansions that plunge us into the time of the Ancien Regime. The Marais was the center of the elegant life, before Louis XIV choosed to settle down the Royal Court to Versailles. Marie-Antoinette, Louis XVI and their family were emprisonned in the Temple, in the Marais, before their tragic end. Thus, Marie-Antoinette is the symbol of the 17th and 18th century, with its special atmosphere of sophistication, pleasure and violence...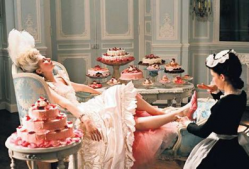 This tour lasts 4 hours, and proposes a tasting
of chocolate and macaron .
Your guide has a master's degree in History from the Sorbonne, with a focus on the 18th century.
250 € / group of 1 to 6 pers
This tour is about the refined pleasures, aesthetic and culinary, of 17th - 18th century life with the Royal Court . It will be based on a lovely stroll in the maze of streets of the Marais, visiting hidden architectural gems.
The Marais is full of beautiful private mansions of the 17th and 18th century. I will show you some magnificient decors, some very refined furniture and some luxury items that were used at the time of Marie Antoinette. At the same time, I will give you the historical context for life during this period.
Additionally, there will be a tasting of sweets and desserts created at this period. You will discover the best chocolaterie of Paris, where the finest french hotels buy their chocolates. Can you imagine that during Marie-Antoinette's time, chocolate was a privilege of the Royal Court?!
We will end the tour with a tasting of macarons produced by the same House of Gastronomy that supplied the royal court of Versailles.

This will be an unforgettable trip into the refined lifestyle of the royal society during the 17th and 18th century in Paris. This walk takes us through a fashionable district, full of lovely shops, and art galleries. . . Time permitting, we can stop there too!!