Visit of the Château de Versailles, departure from Paris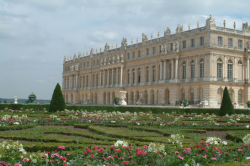 Skip the line.
Visit of the Grounds, Trianon Palace, and the Marie-Antoinette's estate.
Your guide will tell you stories about the life in Versailles inside the Palace and during the walk in the gardens.
The half-day :
250 € / group of 1 to 6 pers (+ 25 € / pers)
Full-day tour
Transportation and lunch are not included.
To go there: chauffeur driven car or public transportation.
The Château de Versailles was built by Louis XIV, the Sun King. He wanted to be the center of the Royal Court, like the sun with its orbiting satellite. He instituted a very strict code of protocol that defined the Court agenda, and animated the life in Versailles. It made the Sun King the center of everyone's attention.
After the Sun King's death, Louis XV and Louis XVI had to deal with this rigid heritage... Until the French Revolution.
How did the french monarchy move from splendor to destruction? How did it evolved during the 18th century?