Shopping in the Marais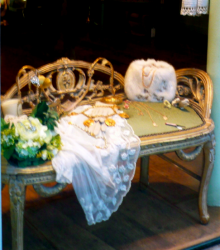 Marais boutiques tour
A shopping stroll in the Marais, the oldest
neighbourhood in Paris, which nowadays
is a very swinging and elegant district.
We can by the way go in another area!
250 € / group of 1 to 6 pers
Tour of 3 hours
Insider's shopping tour of the Marais, for a behind-the-scene experience!!
Looking for something that screams "got this in Paris!"? The Marais boutiques tour is for you. Let Esprit de Paris help you find your way through the labyrinth of tiny rues to discover some of the most charming shops (the shop that makes amazing hats? where you can find unique gloves? or a white blouse?), très chic!

This tour offers a wide range of shops from home deco to accessories to gift items. Esprit de Paris, with your interests in mind, will help you find the perfect items to take Paris home in your bag. A pause ("break") will be taken in a quaint local café.
Stay on trend on shopping in Paris!! Le Marais has a special spirit: anti-bling, poetic, bohemian and chic, elegant and casual. This is the real Paris!!
Your guide is a french young woman, born in Paris and raised in a townhouse in Le Haut Marais. She knows all the secret shopping address of this area!!