Visit of the historical area in the center of Paris: the Marais
Visit of the historical area in the center of Paris: the Marais
Private tour in the historical center of Paris, the aristocratic area of the Marais. On foot or by bicycle.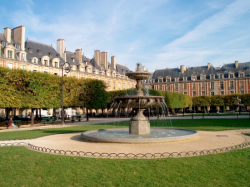 The visit lasts 3 hours.
250 € / group of 1 to 6 pers
The Golden age
The glorious time of the Marais was during the 17th and 18th centuries. The king Henry IV built the Royal Place, the current Place des Vosges. It became the center of the elegance during this time.
That's why many aristocrats and wealthy families had settled down in this area. Many private mansions were built, with gorgeous decoration and splendid architecture.
The first "salons" were held in the Marais, and became the place to meet wits, elegant ladies, prominent writters and scientists. Thus, Paris made a reputation of capital of sociability.
From decline to historical patrimony
At the end of Louis XIV's reign in 1715, the Marais was gradually abandonned by the aristocrats. The Royal Court moved to Versailles, the faubourg Saint-Germain and the faubourg Saint-Honoré.
During the 19th century, the Marais became poor and industrious. Workshop were built in the former gardens and courtyards. Hopefully, Haussmann didn't destroy it!
It's only in 1962 that the Marais became officially protected as historical patrimony, and that it's rehabilitation has started until nowadays.
Today, the Marais is a trendy area, with bohemian and effortless elegance. Located in the center of Paris, Parisians love to stroll around this unique area due to it's rich historical past. Art galleries, boutiques with avant-garde fashion, designers, lively cafés, market... The vitality of the Marais attracts lovers of history and a creativ and artistic crowd.
Your guide is a local, who was raised there since it's birth. Therefore, she knows the charming places and theirs secrets...